The Inclusive Top 50 UK Employers 2016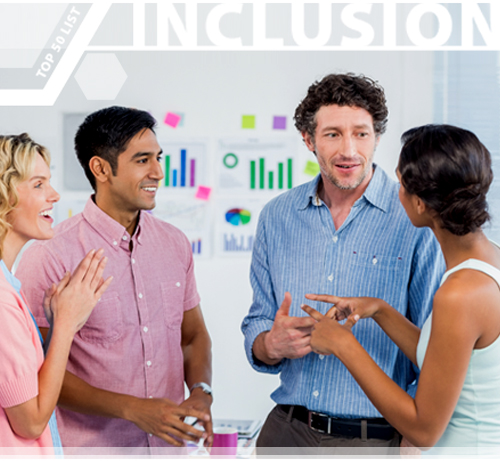 The Metro Newspaper has published the definitive list of UK based organisations that promote inclusion across all protected characteristics, throughout the whole ethos of their organisation.
 
Representing the promotion of all strands of diversity including Age, Disability, Gender, LGBT, Race, Faith & Religion, the list has highlighted a variety of organisations across different sectors.
 
An excellent response from 100 companies nationwide has ensured a wide spectrum of inclusive employers are featured.
 
Compiled by a dedicated panel of judges, organisations have been scored on their performance in a range of areas within the diversity arena. This exclusive resource has identified the true leaders in this field, focusing on representation at management, senior, executive and board level.
 
Organisations ranked on the list have provided sufficient evidence on an amalgamation of topics including recruitment procedures, training and a host of diversity related initiatives.
 
The List recognises the outstanding efforts of employers that are on a journey to reinforce their commitment to attracting and retaining a truly diverse workforce, achieving equality, diversity and inclusion at its purest form.
The 2016 Inclusive Top 50 UK Employers List is as follows...

1. Touchstone
---

2. Manchester Metropolitan University
---

3. PwC
---

4. Circle Housing
---

5. Merlin Housing
---

8. Centro
---

9. St Mungo's
---

11. University Hospitals of Morecambe Bay NHS Foundation Trust
---

12. The University of Manchester
---

13. Tyne & Wear Fire & Rescue Service
---

14. South Wales police
---

15. The University Of Aberdeen
---

16. Lancashire Constabulary
---

17. Mott Macdonald
---

18. Hogan Lovells
---

19. Ministry of Justice
---

20. Leeds and York Partnership NHS Foundation Trust
---

21. Simmons & Simmons
---

22. Victim Support
---

23. Central Manchester University Hospitals NHS Trust
---

24. The Open University
---

25. The University of East London
---

26. Sky
---

27. City West Housing Trust
---
28. Surrey Police
---

29. West Yorkshire Police
---

30. Orbit Group
---

31. West Midlands Fire Service
---

32. IBM
---

33. Age UK
---

34. Avon and Wiltshire Mental Health Partnership NHS Trust
---

35. University of Bristol Students Union
---

36. Trivallis 
---

37. Mind
---

38. Greater Manchester Police
---

39. University of York
---
40. Steve Biko Housing
---

41. ASDA
---

42. Thomson Reuters
---

43. Royal Holloway, University of London
---

44. NHS North West Ambulance Service
---

45. Gateway Housing
---

46. Trust Housing Association
---

47. Liverpool Mutual Homes
---

48. St Giles Trust
---

49. Lancashire Care NHS Foundation Trust
---

50. Allianz Insurance plc
---
Latest Career Opportunities
HR Admin Officer Forestry Commission England is the government department responsible for protecting [Read More]
City and Islington College is a highly successful College with an ambitious growth plan and outstand [Read More]
We are looking for a Shared Services manager to join our finance team in geographical location Donca [Read More]