The Inclusive Top 50 UK Employers 2016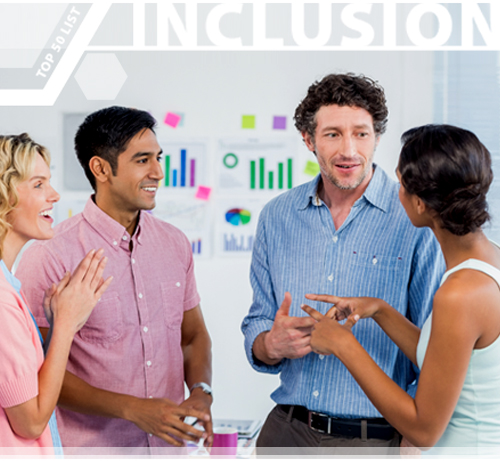 The Metro Newspaper has published the definitive list of UK based organisations that promote inclusion across all protected characteristics, throughout the whole ethos of their organisation.
 
Representing the promotion of all strands of diversity including Age, Disability, Gender, LGBT, Race, Faith & Religion, the list has highlighted a variety of organisations across different sectors.
 
An excellent response from 100 companies nationwide has ensured a wide spectrum of inclusive employers are featured.
 
Compiled by a dedicated panel of judges, organisations have been scored on their performance in a range of areas within the diversity arena. This exclusive resource has identified the true leaders in this field, focusing on representation at management, senior, executive and board level.
 
Organisations ranked on the list have provided sufficient evidence on an amalgamation of topics including recruitment procedures, training and a host of diversity related initiatives.
 
The List recognises the outstanding efforts of employers that are on a journey to reinforce their commitment to attracting and retaining a truly diverse workforce, achieving equality, diversity and inclusion at its purest form.
The 2016 Inclusive Top 50 UK Employers List is as follows...

1. Touchstone
---
Mental Health and Wellbeing Charity Touchstone ranked number one on last year's Inclusive Top 50 UK Employers list showcasing exceptional levels of representation across all protected characteristics at Senior Management, Executive and board level. The Leeds based charity was born in 1982 after it was acknowledged that large numbers of vulnerable people were left feeling isolated and distressed. More than 30 years on and Touchstone provide services to over 2,000 people per year, aiming to make the cities they work in more culturally competent. This remarkable employer was hailed by our advisory panel for their 'strong submission' and 'impressive statistics', showcasing phenomenal commitment to diversity across various topics including recruitment, training, community initiatives, employee engagement and mentoring schemes. Evidence provided is a testament to Touchstone's passion and determination to putting equality, diversity and inclusion at the heart of the charity, and a position at the top of the list is most certainly warranted.

2. Manchester Metropolitan University
---
Just missing out on the number 1 spot, Manchester Metropolitan University is part of the largest higher education campus in the UK and is one of the most extensive education centres in Europe. With a history dating back 150 years, they have a combination of the traditional and contemporary which sets them apart. It is clear they are proud of their diverse community of staff, students and visitors, and are committed to creating a positive environment where everybody is treated with dignity and respect. Subscribing to a number of E&D charter marks, the University holds an Institutional Athena SWAN Bronze Award and a Silver Disability Standard Award from the Business Disability Forum. Applauded for having 'excellent activities across the board', their passion for D&I ultimately attracts a diverse range of prospective employees. With impressive levels of diversity at senior management and above, and a host of striking employee engagement initiatives in place, it is visible that the University are working tirelessly to truly represent the community they operate in.

3. PwC
---
PwC is a professional services firm employing 20,000 people within the UK and over 200,000 people globally. The company goes to great lengths to push the equality agenda and continue to enhance the diversity of their business though a range of programmes, campaigns and networks. PwC have been recognised as a Times Top Graduate Employer for the thirteenth consecutive year; continuing to improve the gender balance of their graduate intake, targeting female dominated courses. They recruited 44% females across the overall graduate intake in 2015 vs. 40% in 2014. Programmes such as 'Open Minds' tackle unconscious bias, and their thirteen diversity networks have supported diverse talent and raised awareness of diversity within their organisation. Almost a third of their UK workforce volunteered during working hours benefiting 18,000 people and raising over £57,000 to support research projects on women's health. PwC are developing authentic and inclusive leaders who inspire others, creating a diverse workplace where employees reach their full potential.

4. Circle Housing
---
Circle Housing are the third largest affordable housing provider in the UK and are also the highest ranking housing organisation on the List. They have been on a diversity journey since the team was implemented in 2013, having gone from 244th in their first ever Stonewall Workplace Equality Index to 22nd in 2016. Circle Housing's 'The Big Conversation' Campaign helps to break down barriers and get people talking about diversity, and in 2014-15 they held over 200 D&I events with speakers from all of the protected characteristics. Circle Housing have implemented 5 staff network groups who provide guidance to colleagues, review policy and hold awareness raising events. Last year they embedded D&I into everything they do, it's no longer seen as a stand-alone issue, its part of all of their learning pathways, its part of everyday recruitment, its part of talent management, and its part of their People Strategy. This extraordinary housing association clearly demonstrates to employees and residents why inclusion is integral to their vision and values.

5. Merlin Housing
---
Merlin Housing strives to be a world class organisation and a leader in EDI, so have set their ambitions high. A medium sized social landlord with nearly 9,000 homes concentrated in and around South Gloucestershire, serving a diverse customer base of over 17,000, this fantastic organisation truly invests in its people and communities. They have an astonishing library of projects and initiatives under their belt which reflects how Merlin Housing is truly making an impact within their local community. With numerous awards and accreditations to be proud of, including 'Investors In People', 'Customer Service Excellence', and 'Stamp out Stigma' Awards, it is clear to see that they're passionate about the cause. Their dedication is outstanding and quality evidence showcased the brilliant networks in place internally, encouraging employees to embrace equality. The hard work and dedication of the talented staff is undoubtedly the driving force behind the success of Merlin Housing. What they have achieved in just over 12 months is quite simply fantastic.

6. British Airways
---
British Airways is the UK's largest international scheduled airline and one of the world's leading global premium airlines; they have shown great commitment to retaining a diverse workforce to reflect its global brand. Through its wellbeing campaigns, engagement forums, and support networks, it seeks to bring issues of diversity to the foreground of day to-day operations. British Airways engages colleagues on matters of diversity through roadshows, internal publications, and conferences, and have 400 wellbeing and inclusion advisers throughout the business whose role it is to run engagement initiatives on wellbeing and inclusion. The Community Investment Team strives to build ties with the local community, prioritising accessibility and diversity, and its Community Learning centre facilitates children of all backgrounds to experience the aviation industry first-hand. The airline also encourages girls to consider careers in aviation, and last year launched a high profile awareness campaign to promote female pilots.

7. West Midlands Police
---
West Midlands Police are the UK's second largest police force covering a population of around 3 million people. It is also the most diverse region of the UK with an estimated 187 recorded nationalities and ethnicities. The West Midlands is a 'Superdiverse' Metropolitan area with a BME population of 34%, with other areas within this conurbation significantly higher. West Midlands Police have realigned their whole business model to champion an inclusive culture. This is reflected in their drive to deliver 'procedural justice' in the very fabric of their processes leading to more trust and accountability by the communities they serve. This is evidenced through their new D&I Strategy & Strategic Objectives which are mirrored at every level, exec team, senior leaders, local policing units, departments and individuals. D&I is explicit in their new force vision and values; maximizing the talent of diverse individuals to ensure that they deliver the best possible service to all their diverse communities.

8. Centro
---
As the West Midlands Integrated Transport Authority, Centro takes a leading role in transforming public transport services in the region. Centro puts diversity and inclusion at the heart of public transport services and employment practice. They have invested and continue to invest in a range of strategies to ensure they are a diverse and inclusive employer. In service delivery, Centro has heavily invested in the development of fully accessible facilities such as state of the art bus stations and accessibility aids, including their award winning bus hailers. Over the last 10 years, 55 community projects have been funded through the Transport Regeneration Fund. This has resulted in Centro partnering with over 120 organisations and 63 match funders. A range of pioneering initiatives have been implemented such as 'Get into Transport' and 'Out and About' project for deaf users, as well as comprehensive equality training and objective assessment recruitment methods. As a result Centro has significantly improved its workforce representation.

9. St Mungo's
---
St Mungo's is a homelessness charity and housing association which places clients at the very heart of its work, believing in their potential and supporting them to rebuild their lives. Their vision is that everyone has a place to call home and can fulfil their hopes and ambitions. To achieve this vision, they work with over 2,500 people a night who are either homeless or at risk of homelessness. Internally, St Mungo's is committed to creating an environment where EDI is valued and celebrated. They have six diversity networks, all of which participate in regular meetings with members of the Executive Team. Furthermore, each network has a senior sponsor to champion their cause and ensure D&I is embedded at all levels of the organisation. St Mungo's is determined to go above and beyond to create an inclusive working environment and become examples of best practice within their sector. Our advisory panel hailed the charity for their 'amazing monitoring statistics' and 'excellent response'.
10. L&Q
---
L&Q owns and manages over 72,000 homes, providing a roof over the heads of some 230,000 people. With over 1,700 staff, L&Q is one of the UK's largest housing associations and a leading residential developer in London and the South East. It works explicitly to include contributions from all diversity strands within the organisation. 34% of its workforce, and 28% of its people managers, are from a BME community – both up 4% in the past year. The passion and dedication of L&Q's staff has resulted in the organisation climbing again in the Stonewall top 100 employers in 2016, ranking five places higher this year than last. Externally, through the L&Q Foundation, L&Q supports its diverse customer base by investing to improve peoples' chances in life by developing innovative projects, which tackle disadvantage and social inequality. Strong and sustainable policies have been implemented to build a supportive and inclusive working environment.

11. University Hospitals of Morecambe Bay NHS Foundation Trust
---

12. The University of Manchester
---

13. Tyne & Wear Fire & Rescue Service
---

14. South Wales police
---

15. The University Of Aberdeen
---

16. Lancashire Constabulary
---

17. Mott Macdonald
---

18. Hogan Lovells
---

19. Ministry of Justice
---

20. Leeds and York Partnership NHS Foundation Trust
---

21. Simmons & Simmons
---

22. Victim Support
---

23. Central Manchester University Hospitals NHS Trust
---

24. The Open University
---

25. The University of East London
---

26. Sky
---

27. City West Housing Trust
---
28. Surrey Police
---

29. West Yorkshire Police
---

30. Orbit Group
---

31. West Midlands Fire Service
---

32. IBM
---

33. Age UK
---

34. Avon and Wiltshire Mental Health Partnership NHS Trust
---

35. University of Bristol Students Union
---

36. Trivallis 
---

37. Mind
---

38. Greater Manchester Police
---

39. University of York
---
40. Steve Biko Housing
---

41. ASDA
---

42. Thomson Reuters
---

43. Royal Holloway, University of London
---

44. NHS North West Ambulance Service
---

45. Gateway Housing
---

46. Trust Housing Association
---

47. Liverpool Mutual Homes
---

48. St Giles Trust
---

49. Lancashire Care NHS Foundation Trust
---

50. Allianz Insurance plc
---