On Friday 21st April, some on the UK's most inclusive employers gathered at The Co-op in Manchester to tackle diversity related issues.
It's no secret that the lack of diversity at board level is a deep rooted problem across all industries. We regularly see news stories in the media draw attention to companies struggling to retain a truly diverse workforce, and develop an environment that promotes acceptance, respect and teamwork regardless of age, disability, gender, sexual orientation, race, faith or religion.
"Being inclusive makes great business sense, we all know that" Said Paul Sesay, CEO & Founder of the Inclusive Top 50 UK Employers. "Until now it has been hard to identify the best employers when it comes to equality, diversity, and inclusion".
Organisations are implementing a host of innovative initiatives and training programmes to meet certain quotas in employee race or gender categories, but there is still so much more to do.
"Workplace diversity goes beyond meeting quotas. It is a way of thinking and operating that encourages an entirely new and positive outlook among co-workers" Said Sesay.
Receiving over 100 submissions last year, The Inclusive Top 50 UK Employers Launch showcased a host of organisations that are being the change they wish to see. This long-awaited league table of the most inclusive employers in the UK finally shone a light on best practice across all strands of diversity.

Capitalizing on this momentum, the #it50Launch in partnership with the Co-op ensured key organisations used this supreme opportunity to open conversation to influence change in the field of equality, diversity & inclusion.
An elite pick and mix of diversity ambassadors collaborated amongst a lineup of dynamic keynote speakers to take a fresh look at how inclusion is viewed.
Mental Health and Wellbeing charity Touchstone ranked number one on last year's list, with CEO Alison Lowe (pictured below) delivering a powerful speech surrounding the charities aims and achievements.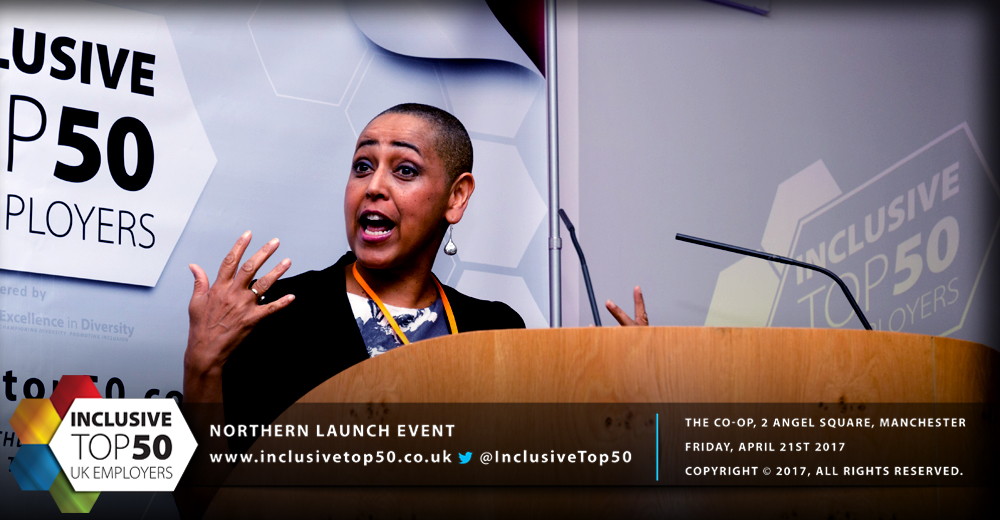 "Touchstone eats lives and breathes diversity" said Lowe. "Our values have resulted in 97% of our staff believing the organisation promotes diversity and 100% of LGBT staff feeling safe at Touchstone".
Excellence in Diversity Awards Judge and interim Chief Executive at UCAS, Andrew Hargreaves (pictured below), also discussed the importance of uniting at such a crucial time in the fight against inequality.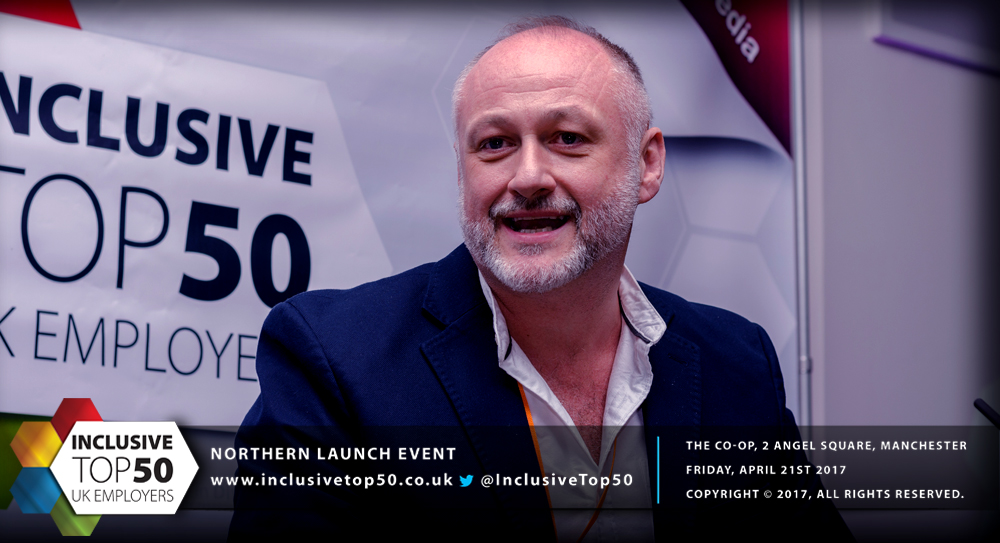 "Be a virus for inclusion, every virus starts with a cell" Said Hargreaves.
Ahead of the election on 4 May, Tabitha Morton, Women's Equality Party Candidate for Liverpool Metro Mayor highlighted gender equality issues such as domestic violence, the pay gap and tackling the cost of childcare.
Morton is running against four male representatives of the Conservative, Lib Dem, Labour and Green parties, as well as one female UKIP candidate.
Warrington Disability Partnership CEO, Dave Thompson MBE, also took centre stage to share his journey telling the 100 strong audience how he acquired his disability at the age of 31 when a sports accident left him paralysed.
"85% of disabled people acquire a disability during their working life" said Thompson. "Employers need to provide opportunities and adapt to become an inclusive employer for disabled people".
Employing over 50 staff and nearly 230 volunteers, Dave is also the founder of the world's largest voluntary pan disability independent living event and has presented a variety of Disability Equality training courses that have been attended by over 36,000 people.
Steve Biko Housing Director Tracy Gore, and Alan Robson, Assistant Chief Office at Tyne & Wear Fire & Rescue Service also delivered passionate and thought provoking speeches throughout the day.
The Inclusive Top 50 Launch highlighted the exceptional responses from their clients including an increase in budgets, enquiries into the good work they are carrying out from other organisations, national press and local partners, as well as great encouragement and motivation for their staff to continue to make improvements.
It's imperative that companies join together to focus on all protected characteristics and lead the way for the diversity agenda.
To register your place at the Southern Inclusive Top 50 UK Employers Launch on June 14th, please CLICK HERE

CLICK HERE TO VIEW THE INCLUSIVE TOP 50 NORTHERN LAUNCH GALLERY