On June 14th, Leading figures in the diversity arena gathered at Bloomberg L.P. to take a fresh look at how inclusion is viewed.
A variety of industries from across the country opened a broader conversation surrounding the diversity agenda on Wednesday afternoon at the very first Southern Inclusive Top 50 UK Employers Launch.
A definitive list of the most inclusive employers was revealed in the Metro Newspaper last year with organisations praising their ranking for increasing diversity budgets, forging successful partnerships and motivating staff to make improvements.
Capitalizing on this momentum, the #it50Launch ensured key organisations used this supreme opportunity to open conversation to influence change in the field of equality, diversity & inclusion.
The event attracted over 210 delegates from 160 organisations, with an elite pick and mix of diversity ambassadors collaborating amongst a line-up of dynamic keynote speakers from companies such as PwC, Nielsen and Direct Line Group.
Heather Melville, Director of Strategic Partnerships at RBS took centre stage to host what unfolded to be a thought-provoking and powerful day.
"Today's event has got me thinking about how many people are removing barriers when it comes to diversity, and more importantly inclusion" Said Paul Sesay (pictured below), CEO and Founder of The Inclusive Top 50 UK Employers. "The atmosphere in here is electric, you can feel the passion coming from everyone in the room; it is this passion that will help make a change".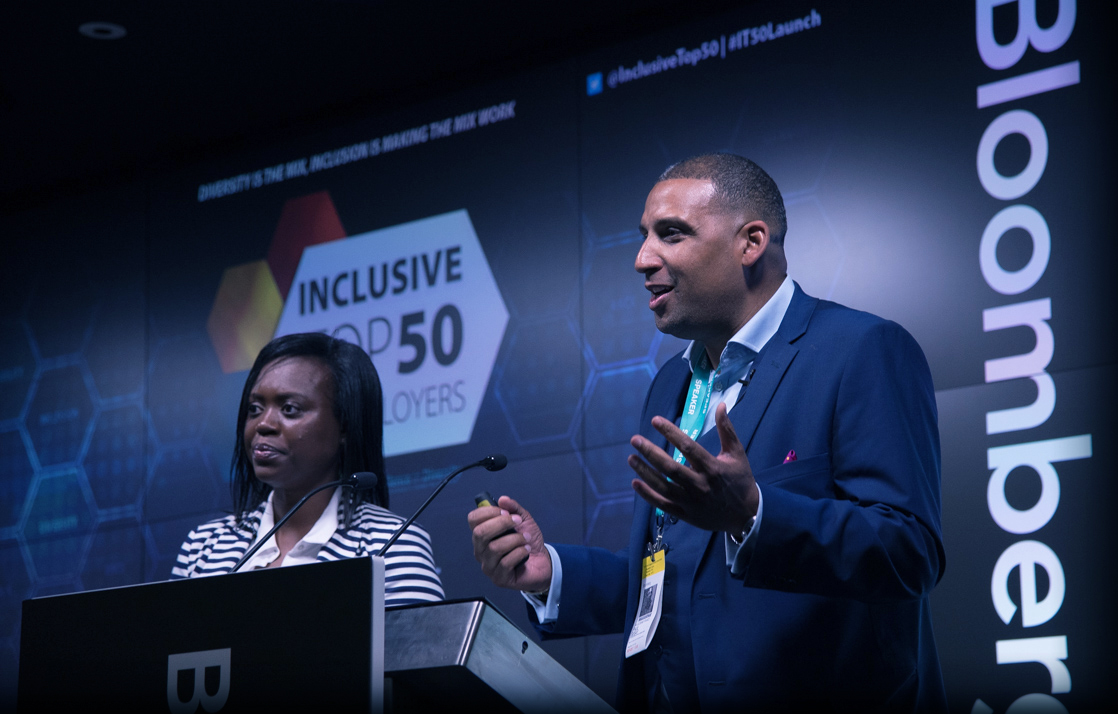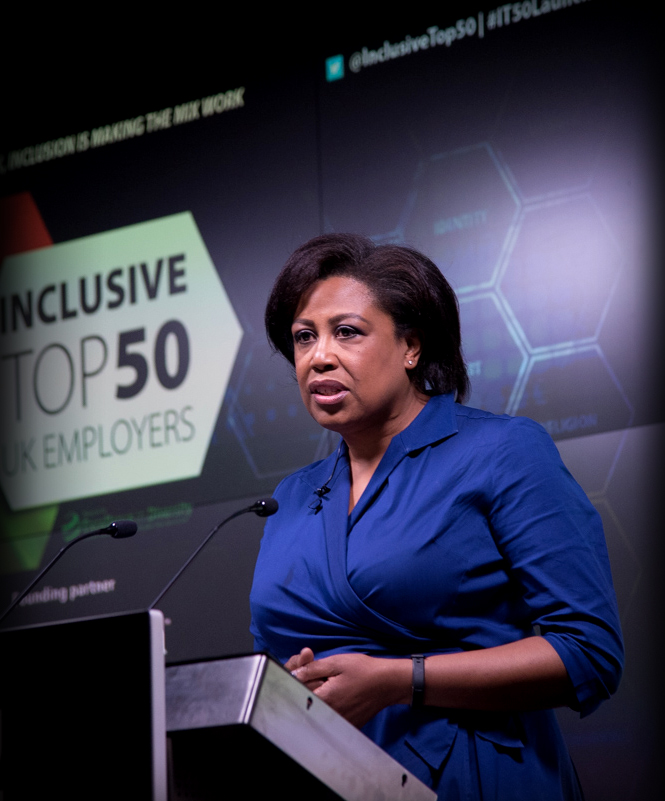 Cited as one of the most thought leaders and vocal advocates for diversity across the private sector, Pamela Hutchinson (pictured right), Head of Diversity & Inclusion EMEA at Bloomberg LP, shared her experiences of gender and race inequality adding, "If you get inclusion right, diversity will follow. But if you get diversity right, inclusion doesn't always follow".
Earlier this week forward-thinking recruitment company Rullion were announced as a founding partner of the Inclusive Top 50 UK Employers. Executive director Alistair Haigh gave a detailed look into diversity and inclusion within the recruitment world. "Rullion are striving to remove unconscious bias from recruitment" said Mr Haigh. "We know that people are the greatest asset of any business and this is a great opportunity for us to learn and improve our own workplace culture".
Cathy Earle, HR Director UK and Ireland for Nielsen, a company which has over 60 different nationalities in their UK head office, spoke about the power of employee resource groups (ERG'S). Nielsen recently launched their ninth ERG MOSAIC (Multi National Organisation Supporting an Inclusive Culture), celebrating the breadth of perspectives and backgrounds of their associates.
Also taking centre stage, Andy Woodfield (pictured below), Lead Partner for the International Aid Development Consulting, PwC re-emphasized the importance of "focusing on everybody".
"Do not play the game of focussing on certain strands" said Mr Woodfield. "The focus should simply just be on everybody – this isn't radical".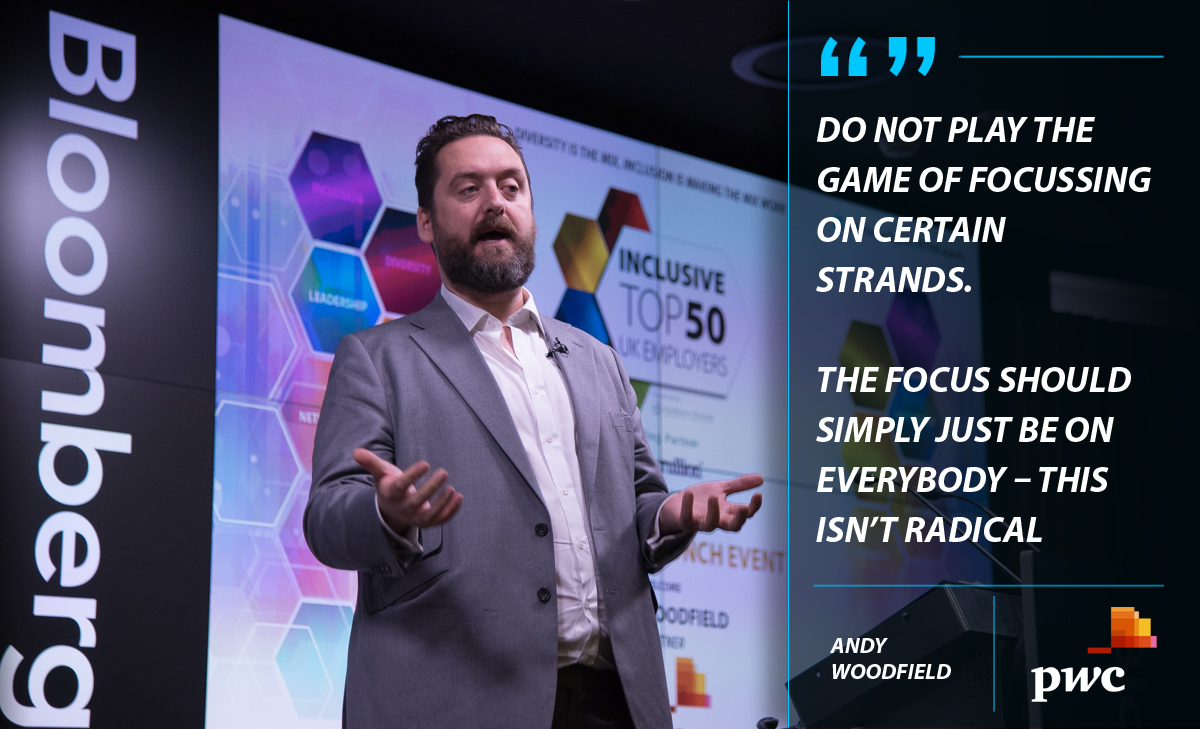 Mental Health and Wellbeing charity Touchstone ranked number one on last year's list, with CEO Alison Lowe delivering an impressive speech surrounding the charities aims and achievements.
"Touchstone eats lives and breathes diversity" said Lowe. "Our values have resulted in 97% of our staff believing the organisation promotes diversity and 100% of LGBT staff feeling safe at Touchstone".
Evenbreak Founder Jane Hatton reflected on her personal experiences of becoming a part of the 80% of disabled people who acquire a disability later on in life. "There is still so much work to do surrounding disability equality", Said Jane, who set up her company in 2011 to help inclusive employers attract disabled talent.
Jennifer Thomas, Head of internal Communications & Experience, Direct Line Group spoke passionately about her own experience and journey as a black woman trying to climb the corporate ladder, and gave great insight into the work Direct Line are doing to promote D&I.
Bloomberg's global head of diversity and inclusion strategy Erika Irish Brown, made a keynote speech before the event ended with a high profile panel session discussing the very best of D&I across the UK & US.
Chaired by Dr Yvonne Thompson (pictured below), the powerful line up of panellists consisted of Tangy Morgan, Senior Advisor to the Bank of England, Diane Ashley, Chief Diversity Office and OMWI Director for the Federal Reserve Bank of New York, Pauline Miller, Head of Diversity & Inclusion at Lloyds of London and Bloomberg's Head of Diversity EMEA Pamela Hutchinson.
The main topic of conversation was affirmative action, which is widely incorporated into US corporate culture, however is largely not common practice in the UK.
Tangy Morgan ended the panel session with a clear message to "Promote diversity in everyone, no matter who you are". A compelling point which highlighted why it is imperative that companies join together to focus on all protected characteristics and lead the way for the diversity agenda.